How does the course work for co-ops?
The Advanced course is for students looking to receive high school credit. When students complete the course and a minimum of 15 lab assignments they'll have accrued enough time for a high school lab science credit.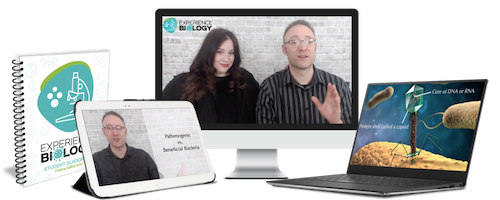 What's Included…
Video lectures are all done for you. All you have to do is show up to class and push play.
Weekly quizzes, along with 4 quarterly exams, are ready to go. Pass out the quizzes and grade together in class.
Complete the labs together with the aid of the lab videos and have your students complete their lab assignments at home using their lab guide.
Students have reading assignments that correspond with each lesson from the textbook, The Riot and the Dance.
Assign the research questions each week for students to do at home.
And the Facilitator Guide and answer keys you download will make running the class a cinch!
How does co-op pricing work?
Each co-op pays a flat fee of $150 per group. In addition they pay a per student fee of $147.
Sign your group up now!
Ready to get started? You can sign your co-op up for the course by contacting our team at info@JourneyHomeschoolAcademy.com.
Do we need to watch the videos and complete lessons on specific weeks?
No, however the lessons should be watched in order over the course of 35 weeks.
What should we do if we don't meet all 35 weeks the course runs?
We've tried to make this easy for your class even if you don't meet each of the 35 weeks. Each student will have a login of their own with access to the videos. When there's a week you can't meet (or a student is sick) assign the appropriate video and corresponding observation and reading assignments.
How long should we meet as a co-op & what should our time look like?
Ideally, you should meet once or twice a week for 35 weeks. If meeting once a week, plan for a 2 hour class. If meeting twice a week, plan for two 1 hour meetings.
When we tested this in our co-op we spent the first hour going over the quiz students had taken at home, then watching the new lessons for the week. We spent the second hour completing the lab together. 
Students were assigned to complete the quiz, research questions, reading, and review the videos as necessary at home.  
Is the textbook required?
The textbook is highly recommended, however it could be completed without the textbook or with a different textbook altogether.
How long do we have access to the course?
You'll have access to the course for 1 year.