Experience Biology

Engage young minds… and put the FUN back into homeschooling!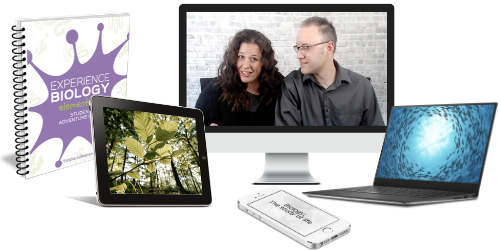 Think you need to be a "science person" to teach your kids science?
Think again.
Maybe you passed high school Biology by the skin of your teeth.
Maybe the periodic table makes your head swim. (Coffee anyone?)
Or maybe with 3,482 other things to teach your kids… you just need to leave science to someone else.
But what about science — that missing subject you're worried about teaching? It's the key that pulls so much of your kids learning together. 
Science isn't optional, and figuring out a way to make it both fun and engaging IS possible.
You just need to know how.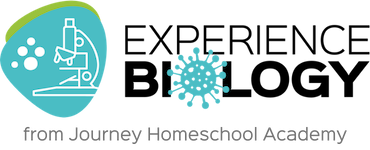 The science curriculum for homeschooling families who want high quality education plus an engaging hands-on experience.
We offer both elementary and high school level science classes that give your kids a solid foundation in science motivating them to learn.
Experience Biology makes doing science your kids love easier than ever.
When you enroll your child in Experience Astronomy, you'll receive:
✅ 30 fun video lessons
✅ Dozens of hands-on activities you and your child can do together.
✅ Recommended reading lists include books that can be read aloud or assigned as independent reading
✅ Memory work to strengthen your children's minds and commit important foundational facts to their long-term memory
✅ Copywork that accompanies every lesson to reinforce key concepts while practicing handwriting skills
✅ Flexible lessons (you don't have to teach) in as little as 15 minutes
✅ Lab (advanced) or no-lab (basic) options.
✅ 35 weeks of engaging video lessons — 2 videos every week
✅ Lesson outlines your student can fill in to help with notetaking skills
✅ Weekly research questions to deepen understanding of scientific concepts
✅ Weekly comprehension quizzes
✅ Quarterly examinations to gauge your student's understanding
✅ Optional reading assignments from The Riot and the Dance textbook
✅ Course guide
Also included in the Advanced Level only:
✅ Lab Manual with weekly laboratory experiments and activities
✅ Lab videos to walk your student through laboratory exercises.
✅ Certificate of completion
"I hated the idea of my daughter doing work alone— simply handing her a boring textbook for biology
but it's difficult for me to do any school with my daughter since she has 3 younger siblings that need help and I work from home. We hadn't used any online courses, so I was concerned online biology would be boring for my daughter.
Experience Biology has such engaging lesson videos and the labs are interesting. So even though she's done the course alone, it's been a lot of fun!
The course is rigorous enough I feel my daughter is getting a strong introduction to Biology but has enough wiggle room that if she misses a day, she can easily combine days and catch up."
The most successful science-teaching homeschool parents aren't the ones who know everything —
They're the ones who find the best resources, and who teach their kids to teach themselves.
Learn more about the Elementary Biology Program
Learn more about the Basic and Advanced Biology Programs